California wildfires can cause devastating damage to property and human lives. But for plant species that have lived for thousands of years in the fire-prone Sierra Nevadas, forest fires are an expected part of the natural environment. These species have unique adaptations to withstand fire - and some even depend on fire to survive. This infographic introduces six different California plant species, all with different adaptations to fire.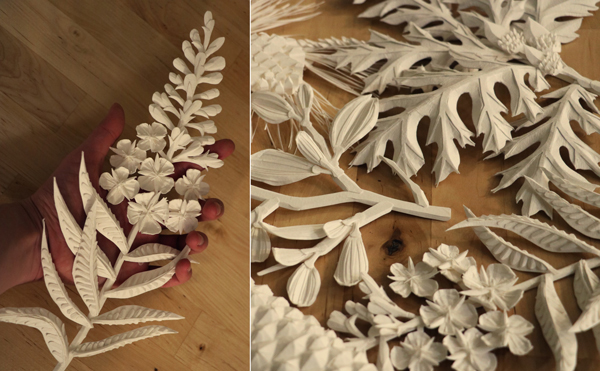 Each of the illustrations were made with watercolor paper & Elmer's glue. The fireweed design I'm holding took almost 8 hours to make:
To make this infographic I first made all of the plants out of white watercolor paper and Elmer's glue. Then I borrowed a camera and tripod from my university, and set everything on fire with a purple Bic lighter. By incorporating real flames into this infographic, I wanted to emphasize the important role of forest fires in the life cycle of these plants. I edited these videos in Photoshop to make a continuous looping animation of each burning paper sculpture.
The white paper designs don't include details like flower color or exact leaf size. But my goal for this infographic was to share the general principles of fire ecology using these plants as interesting examples. Since I wasn't making a plant identification resource, I decided to use a more artistic style that skips some of the information found in traditional field guides.