Heartbeats and heart attacks
---
This week's medical infographic is an introduction to several different kinds of heart disease. The ten featured diseases are some of the most common causes of abnormal EKGs. An electrocardiogram (or EKG) records the electrical activity of the heart, and is used by doctors to screen patients for several types of heart conditions.
To provide a reference for a healthy heartbeat, the first entry in the infographic is an EKG trace from a normal adult (with the important sections labeled clearly). The following 10 entries are all examples of abnormal EKGs of varying severity.
I wanted to highlight the unique shapes of each EKG wave as the focal point of the poster. After trying a few different things, I decided to try and make a digital heartbeat "sunrise," where each of the EKG waves defined a specific colorful section of the poster. I thought it would show off the simple shape of the waves, and also work as a practical way to section off the different descriptions. I designed each EKG line in Illustrator, and then imported the shapes to Photoshop to add textured shadows, color overlays, and text.
As with my other medical infographics, Dr. Arun Mathews, a Chief Medical Officer in Texas, fact-checked my work and suggested useful articles.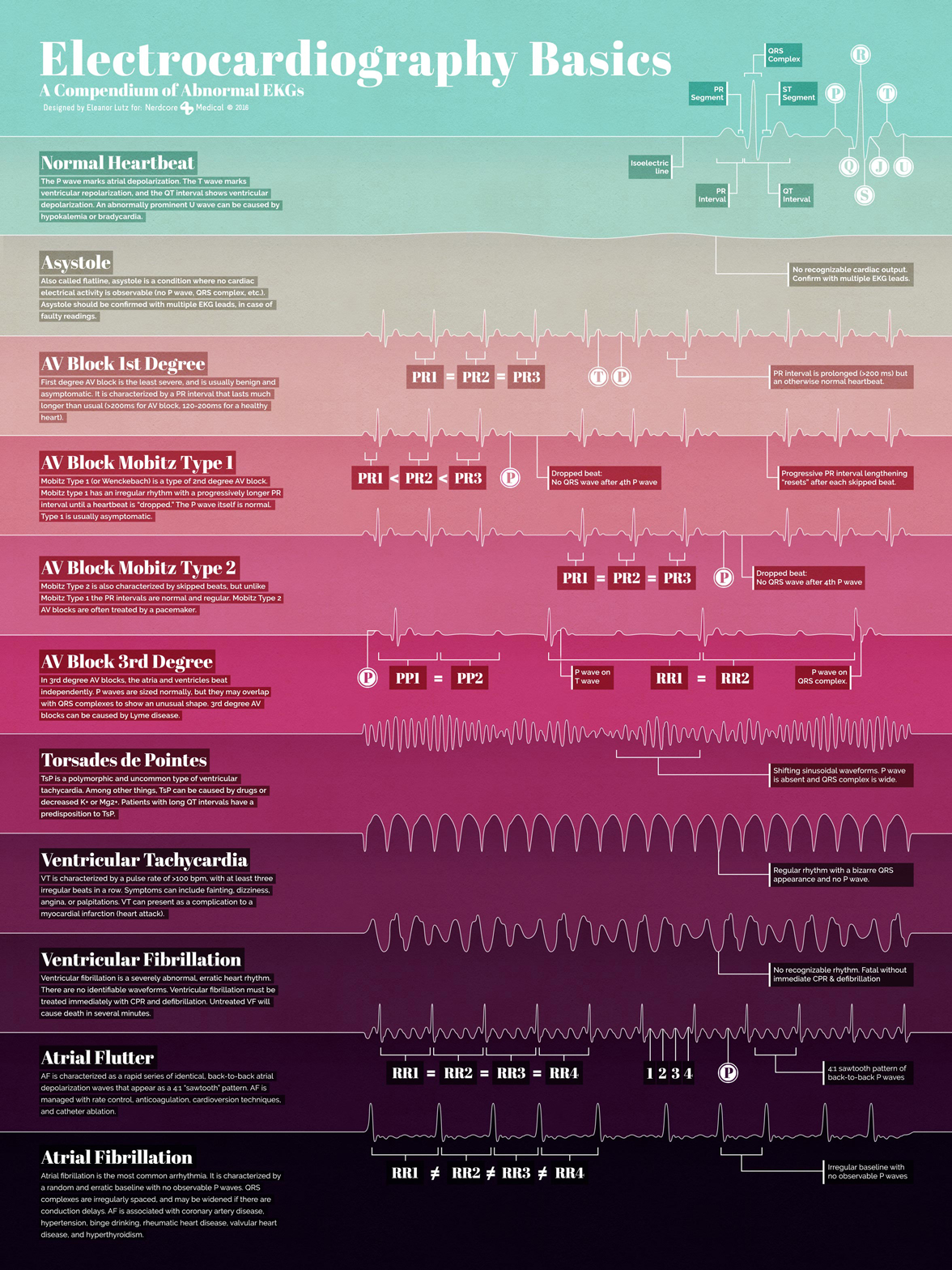 The architecture of the spine
---
This week's medical infographic poster is a diagram of spinal cord lesions. The spinal cord section diagrams in my reference books had a really interesting structural style, so I decided to design the poster with an architectural theme to show off all of the 3D section shapes.
A couple months after I finished this poster I took a human neuroanatomy class in grad school. So I actually got to pick up a real human spinal cord and look at all of the different sections. The most surprising part to me was the size - the spinal cord was only half an inch thick at the thickest part. I guess I expected it to take up more space, considering all of the information carried inside.
The memorization for that class was pretty time-consuming, but it was amazing to hold a real human brain in my hand and point out the sections that held all of that person's memories, or their ability to speak. I think it'll always be one of my favorite classes.
This "architectural sketch" style was done using the Beautiful Mess Illustrator vector brush set by Pixelwise. I bought the brush set on a whim, so it was an unexpected surprise when they turned out to be exactly what I needed for this project.
The fonts are Antiquarian Scribe by Brian Willson and FFF TUSJ by Magnus Cederholm. I'm slowly building my library of handwriting fonts, so if you have a favorite I'd love to hear which ones you use.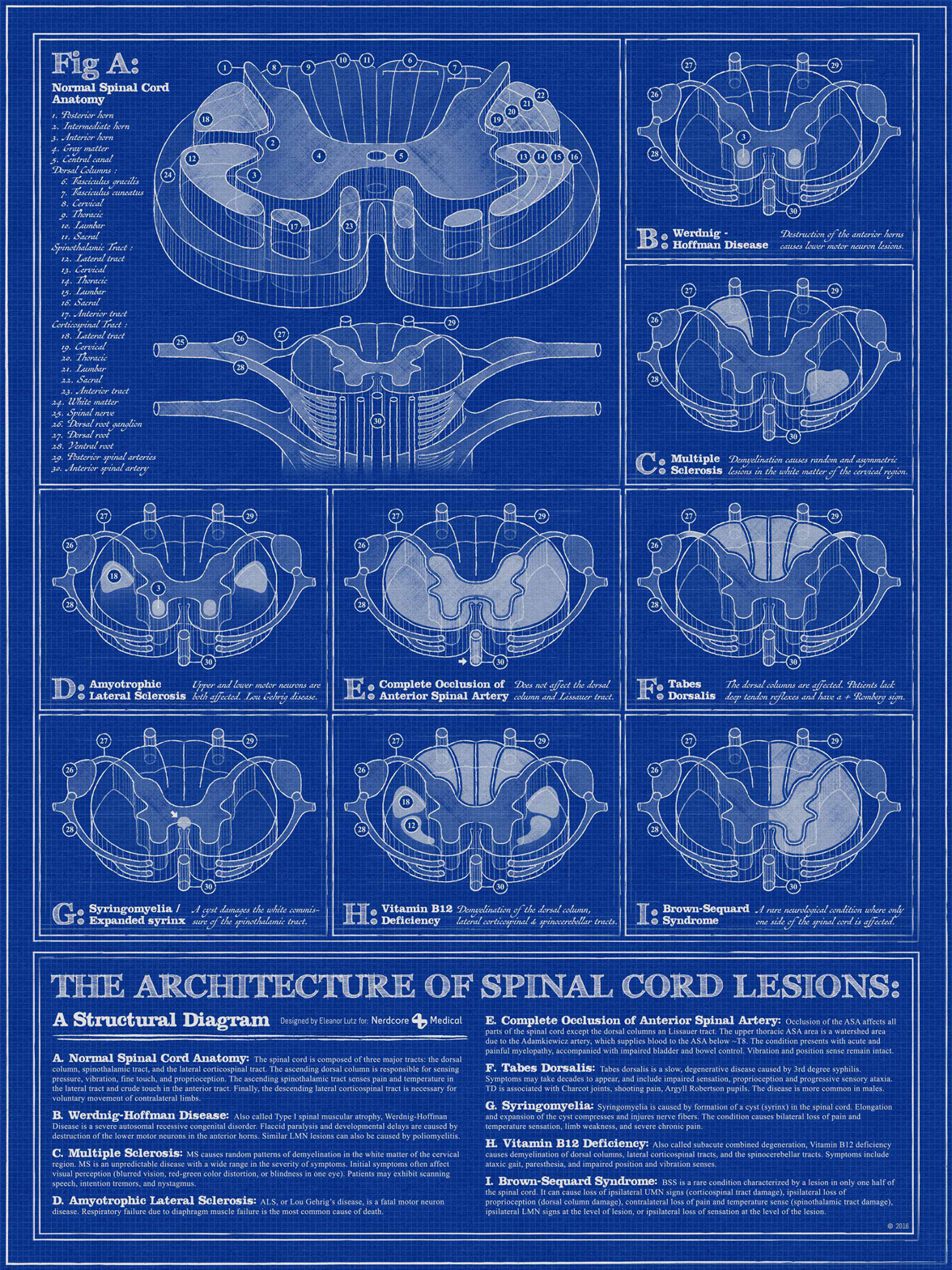 Immunology pop art
---
This week's collaboration with Nerdcore Medical was inspired by a mashup of Japanese pop art and the old-school gamer style of Designer's Republic. Pop art is usually a little too bright for me, but I ended up really liking the style when mixed with science and a 80's video game vibe. I also love the dull green-gray-white pop art inspired color I found for the background of the poster.
The infographic itself is an introduction to the human immune system. It's fairly text heavy but there's also some chemistry reaction diagrams and two anatomical illustrations. My favorite part of the poster was figuring out how to make a lymph node and an antibody look like something that would belong in a video game.
A lot of my collaborations with Nerdcore Medical are pastiche projects like this one, where I co-opted old graphic design styles for new infographics. It was a great opportunity to learn to design in different styles, and I think it also helped keep the project fresh after so many iterations of medical infographics.
Sources

First Aid for the USMLE Books 1 & 2 (2015). Tao Le and Vikas Bhushan. © 2014 McGraw-Hill Education.
Fonts: Origicide by Koczman Bálint and Oswald Medium by Vernon Adams